NOTE: this package is available subject to pulleys being in stock. Please inquire before ordering.
Standard rotation water pump kit
fits 302 and 351 engines pre1994
Price: $225.00 per kit Plus shipping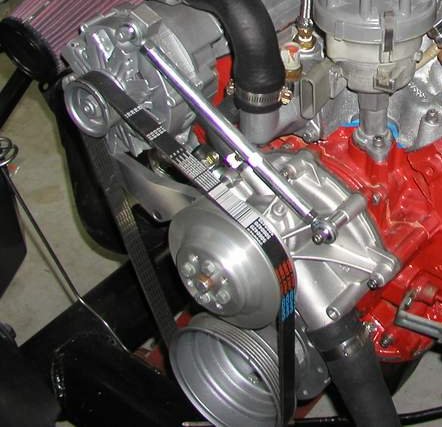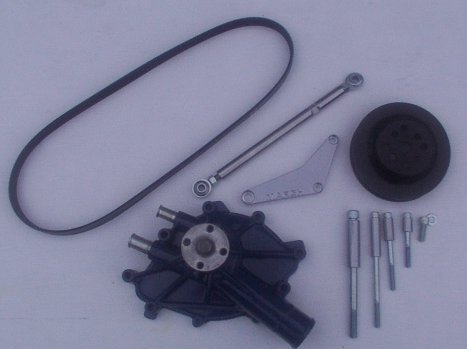 This kit was put together to eliminate some of the clutter
on the front of our 5.0 powered Roadsters.
What you get:
New standard flow water pump (not the normal rotation for these cars)
New black anodized aluminum
ribbed water pump pulley
New alternator bracket with stainless
adjusting rod
All mounting hardware and complete
instructions with drawings
What it replaces:
Original reverse flow water pump
original modified a/c bracket with
FFR supplied idler pulley
Original bulky alternator bracket
Original belt tensioner
Original water pump pulley
Belt
Price is set at $225.00 plus shipping.
Alternator bracket can also be ordered separate
if you would rather source the other parts yourself
If you have any interest in this kit or have any questions please e-mail me.
Please Note: this kit comes standard with a black aluminum water pump
pulley standard. If you want a clear anodized aluminum pulley, you must specify that.
This kit can also be ordered with a 3 piece matched pulley set for a total cost of $300.00
shipped.